LCG: Correction Cometh? Dollar reverses kneejerk losses – By Jasper Lawler, Head of Research
Correction Cometh? Dollar reverses kneejerk losses

07:31am BST | June 11th 2020

Correction Cometh?
Stocks point sharply lower
Dovish Fed spooks markets & dollar gains
Nasdaq reaches 10k for first time
EUR/USD tops 1.14, GBP/USD above 1.28




Inspiration

"In this business, if you're good, you're right six times out of ten. You're never going to be right nine times out of ten." – Peter Lynch




Opening Calls

FTSE 100: 6,206 (-123 pts)
DAX: 12,298 (-232 pts)
S&P 500: 3,143 (-47 pts)
Dow: 26,515 (-474 pts)


Share markets are pointed sharply lower on Thursday in the wake of the latest Fed meeting. Wall Street closed lower on Wednesday but losses accelerated in Asia and futures point to an over 400 point decline on the Dow later. European shares may well be course for a third daily decline in the row as reopening optimism unwinds.




Fed Reaction

The Fed was dovish -maybe even too dovish and the market looks spooked. We don't see the Fed as having under-delivered since no explicit policy change was needed or expected at this juncture. They probably over-delivered on the asset purchases pledge in our view. The key thing was spelling out the plan on rates and asset purchases and they did. We now know that rates will be pinned to near zero through 2022 and that the Fed will increase its Treasury and MBS purchases "over coming months at least at the current pace."  

The Fed took the least-worst option of promising a long period of stimulus and justifying it with a grim economic outlook. The idea of a drawn-out recovery put out by the Fed rather flies in the face of the V-shaped reopening trade that has taken hold in markets.





TRADING OPPORTUNITIES

Join one of the brand new LCG WEBINAR series – covering everything from the beer industry to fintech shares to breakout trading strategies.

**This part is for your colleagues and friends

Do you think that your colleagues of friends might find this type of information useful? If so, please forward them this email and let them subscribe by themselves. If not, please continue reading.

Subscribe

Correction Cometh? 

We talked about the early warning signs of a correction yesterday – "a sudden flip from attack to defence on Tuesday (tech shares up, airlines down, Aussie down, yen up)." Nothing the Fed said or did was truly was a big surprise but the rally in shares and run in the dollar has gone on a while without a correction. Hopes for more stimulus explains a lot of the recent optimism so now we are seeing some "Sell the news."  

It could be that we get a sell-off which subsides in a few days into a trading range until more is known about the next US government stimulus package. We will need to see more than a day or two of weakness in the market leaders (i.e. the FAANGs) for a bigger correction. The Nasdaq reaching the 10,000 milestone shows that hasn't started yet.




Dollar Reversal

After a kneejerk reaction lower to the Fed meeting, the US dollar is gaining strength on Thursday. The pound touched a 3-month high of 1.28 and the euro topped 1.14 before toppling over. The dollar weakness has been particularly pronounced against the Canadian dollar (see chart below) helped by the rally in oil prices.  




Chart: USD/CAD (1-year)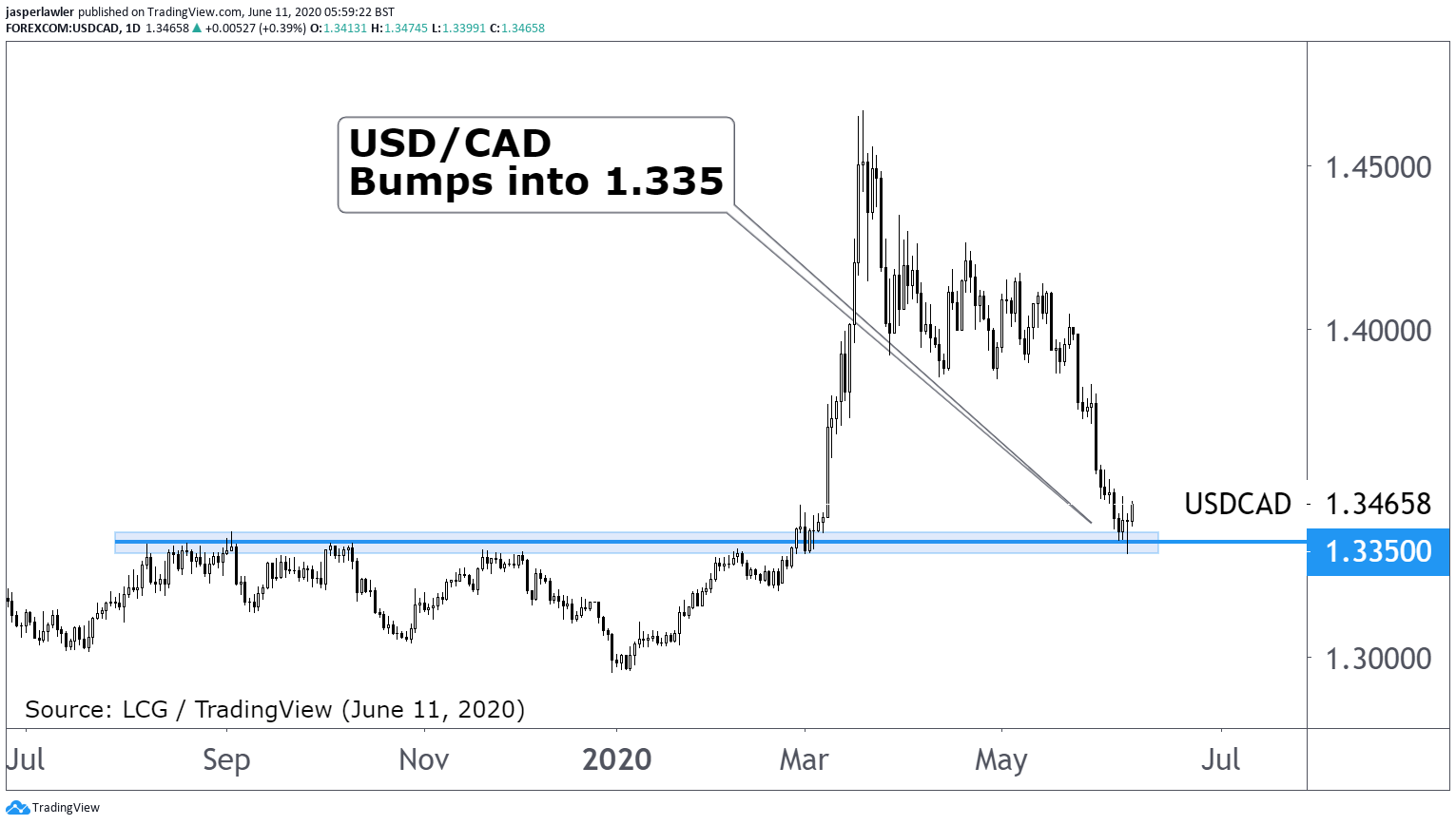 Dollar-Cad has been sliding since March madness but big former resistance at 1.335 could turn support. The end of the drop in USD/CAD could coincide with a pause in the oil price rally – which has been inversely correlated.

Kind Regards,



Jasper Lawler Head of Research
@jasperlawler