LCG: European shares rise with investors watching rise in coronavirus cases – With Jasper Lawler, Head of Research.
8:25am BST | April 6th 2020

European share rise with investors watching rise in coronavirus cases
Wirecard shares plunge over 40% in second day of steep losses
Decade of easy money to reveal more fraud?
UK government borrowing surpasses GDP for 1st time since 1960s
Retail sales rebound in May after UK lockdown eased




Inspiration

The market can stay irrational longer than you can stay solvent. – John Maynard Keynes




Opening Calls

Dow Jones: 26,261 (+181 pts) S&P 500: 3,134 (+19 pts)

European shares are moving higher on Friday with Asian markets closing in positive territory, thanks in part to an official in China saying its latest outbreak is "under control". Futures point to a positive start on Wall Street.




A recovery week

Stock markets are on course for a positive week but as of early Friday but remain down from peaks made last week. The weekly price action has been one of recovery after a steep sell-off. Today is the last chance for bears to resume control this week. The plan for individual bond purchase by the Fed first floated on Monday by Chair Jerome Powell have kept markets afloat. But a rise in coronavirus cases in some parts of the world has kept the gains in check.




TRADING OPPORTUNITIES

Join one of the brand new LCG WEBINAR series – covering everything from the beer industry to fintech shares to breakout trading strategies.

**This part is for your colleagues and friends

Do you think that your colleagues of friends might find this type of information useful? If so, please forward them this email and let them subscribe by themselves. If not, please continue reading.

Subscribe

Wirecard

Shares of Wirecard are being punished for a second day, down some 40% after a 60% drop yesterday. A missing 1.9 billion Euros is more than an counting error and shareholders clearly think the explanation is not worth waiting around for. Wirecard has survived financial scandals before but this one looks different.




More fraud to come?

Of course Wirecard is at fault if there is fraud but the environment helped. A decade of rising stock prices fuelled by easy money have a habit of covering up corporate misbehaviour. We suspect Wirecard won't be the last corporate perp to be found out in the post-coronavirus economy. We will be paying extra attention to short-seller reports- and suspect they will have more influence now. Financial companies, unlike other industries rest on trust to handle money. Without a very concise explanation in short order, we fear Wirecard is headed to zero.




GBP & UK Data

A was a mixed bag of economic data from the UK that quite well represent the state of the UK economy. A bounce back in retail sales helped along by the biggest budget deficit since the 1960s. The British pound is at or below 2-week lows versus the US dollar and several other currencies and looks at risk of a break lower.


Chart: DXY (2-months)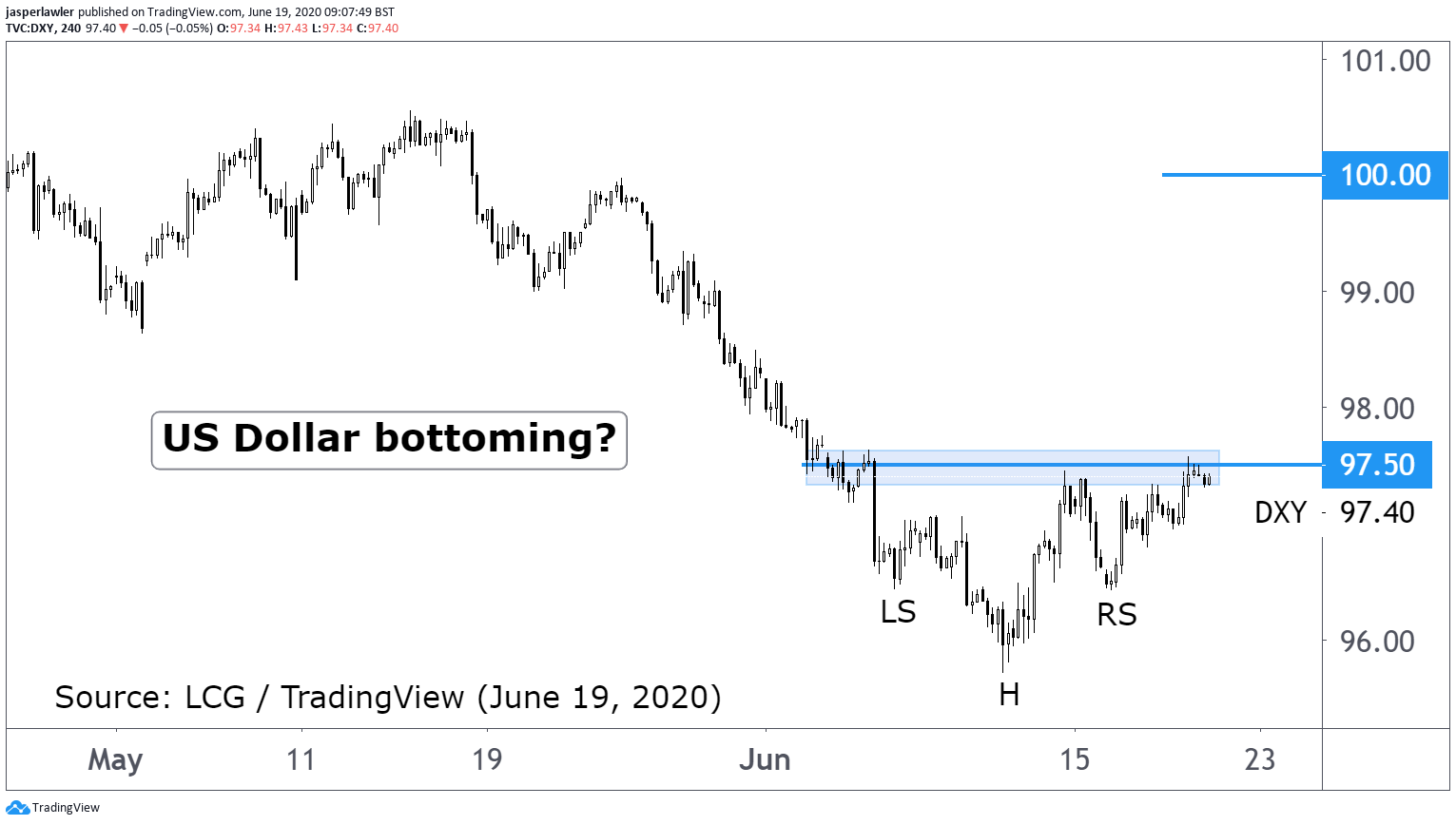 97.5 is the neckline to a possible inverse Head and Shoulders pattern in the dollar index.

Kind Regards,



Jasper Lawler Head of Research
@jasperlawler