LCG: China PMIs – New swine flu – Fauci – FOMC minutes & Gold. With Jasper Lawler, Head of Research.
China PMIs, New swine flu, Fauci, FOMC minutes & Gold

09:27am BST | July 1st 2020

Stocks rise as China PMIs top expectations
Q2 was best quarter for Dow Jones since 1987
New Swine flu in China poses new risks
Gold futures top $1800.
Spot price next?
FOMC minutes Preview




Markets

European stock markets are mostly higher on the first day of the second half of the year. Asian stocks were given a boost by another beat in China PMIs. The first arrest under the new Hong Kong Security law caused some disquiet but not enough to derail a positive start.




Q2 Blowout

The big question is how much higher can we go after the best quarter for stocks in decades? The Dow had its best quarter since 1987 and the S&P 500 its best since 1998 – in the early days of the dot-com bubble. The situation is fluid because of the unknown direction of the pandemic. In market psychology terms; our best guess is that bears need time to coalesce but bulls are running out of steam- meaning  choppy markets over the Summer.




New Swine flu

Experts are warning a new swine flu in China carried by pigs has the potential to become a new pandemic. Of course- any new virus could become a pandemic so until there is better data, the news is largely being discounted markets. 

**This part is for your colleagues and friends

Do you think that your colleagues of friends might find this type of information useful? If so, please forward them this email and let them subscribe by themselves. If not, please continue reading.
Subscribe

No Fauci Signal

Dr Anthony Fauci warned Congress on Tuesday that after new coronavirus cases hit 40,000: "I would not be surprised if we went to 100,000 per day."
It seems investors have decided there is no market signal to be taken from Dr Fauci because the glass is always half empty- rightfully so when the health risks are so high. If cases are rising, Fauci warns they could get much worse- but if cases are falling, he warns they could always rise again. Fauci has become like a coronavirus version of a stock market perma bear.




Gold over 1800

Gold futures crossed $1800 per oz on Tuesday, and spot prices are around $12 short of the same milestone. Gold is up over 12% in the last 3 months for its best quarter since 2016. Gold made the bulk of its gains when the dollar was unwinding. The direction of the US currency probably controls the near term direction for gold.




FOMC Minutes

A lot of the minutes will be stale given the two sets of testimony from Fed Chair Powell in the last two weeks. In our view the biggest takeaway for markets will the Fed's discussion of yield curve control. The Fed chose forward guidance as its choice of poison at the June meeting. If they need to act again, since negative rates has been dismissed, YCC seems the likely destination. The key questions always being: when, how and how much?


Chart: DXY (3-months)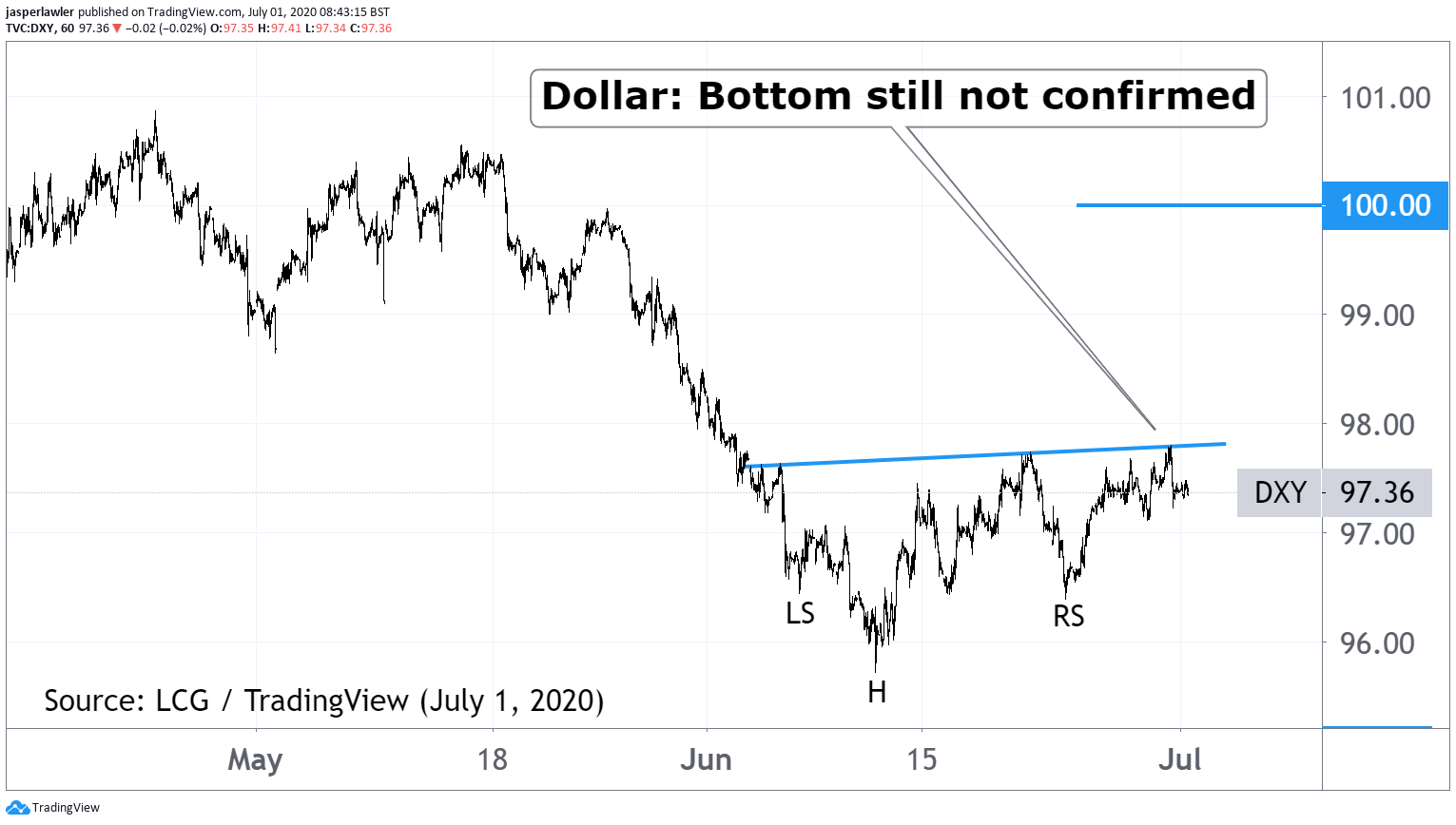 An update on the DXY inverses H&S – there has been a second right shoulder and the neckline still not broken. Longer the pattern – the greater weight we can put on the breakout – IF it occurs

Kind Regards,



Jasper Lawler Head of Research
@jasperlawler